The Great Lakes Maritime Institute, Inc. promotes interest in the Great Lakes; preserves items related to their history; and encourages building of scale models of lake ships, small craft and racing boats. The Institute was organized in 1952 as the Great Lakes Model Shipbuilding Guild. It is incorporated under the laws of the State of Michigan as a non-profit corporation and donations to G.L.M.I. have been ruled deductible by the Internal Revenue Service. No member is paid for services.

War of 1812 Bicentennial Cruises on the Detroit River
July 8, 2012 & August 5, 2012

Two bicentennial cruises are projects of the Great Lakes Maritime Institute to remember the maritime heritage of the vessels, sailors and passengers who traveled the Great Lakes during those turbulent times. Come and cruise the historical locations where the War of 1812 began on the western frontier with reenactors from the Michigan Militia. Step back in time as you board the FRIENDSHIP at the Portofino Restaurant dock in Wyandotte for a narrated cruise on the lower Detroit or Rouge River.

On July 8, 2012, a four hour narrated cruise traced the route of a British gunboat that entered the Rouge River to check on the activities of the Schooner ADAMS in the American Shipyard. Spies reported the British gunboat and Captain Dequindre rushed to the bank of the Rouge River with troops and artillery. A few well placed shots sent the British gunboat to the bottom of the river.

Click Here for a summary and pictures from the July 8 Cruise

On August 5, 2012, a three hour narrated cruise on the lower Detroit River will observe the British Provincial Marine capture the Schooner CUYAHOGA as depicted by the marine artist Peter Rindlisbacher. At least three of the vessel's passengers left vivid accounts, among whom was Mrs. Lydia Bacon whose diary detailed her ordeal. The cruise leaves the dock at 12:00 noon ‐ seating is limited, and includes lunch, beverages, and a cash bar for $60.00.

Click Here for flyer & mail-in order form

- OR -

Register on-line and pay with Pay-Pal:

More Information about the Summer of 1812: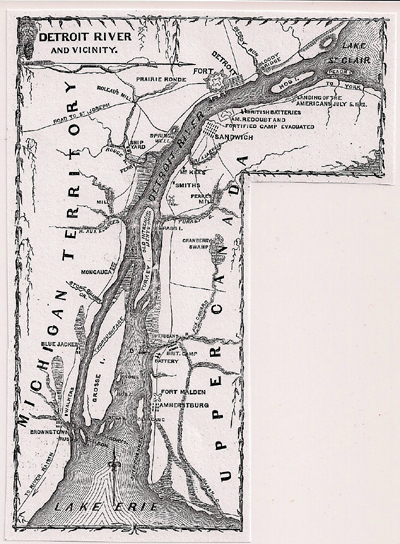 In July, 1812, the Michigan Militia, under the command of Captain Antoine Dequindre, brought a cannon to the Rouge River and sank a British gunboat.